We offer McElroy Metal Roof and Wall Systems. Some of our featured products include:
STANDING SEAM SYSTEMS
MEDALLION-LOK
Medallion-Lok is a snap-together standing seam system that features a 1 3/4″ seam. Medallion-Lok can be installed over open framing or solid decking.
MERIDIAN
Meridian is an economical, snap-together roofing system that is an excellent choice for commercial and residential applications. Panels are simply installed by placing pancake head fasteners in the panel's slotted flange. Meridian is installed over solid decking.
MEDALLION I
Medallion I is an architectural standing seam system featuring a narrow batten cap applied over roofing panels and concealed clips. Medallion I is installed over solid decking. Medallion I can also be curved to meet radius panel specifications.
MEDALLION II
Medallion II is an architectural standing seam system that features a 1 1/2″ wide batten cap applied over roofing panels and concealed clips. Medallion II is installed over solid decking.
SOFFIT & FASCIA PANEL
MARQUEE-LOK/MARQUEE II
Marquee-Lok and Marquee II are soffit and fascia panels that are coated in colors matching McElroy's standing seam systems. The end result is assurance of an exact color match between roof system, soffit, fascia and wall panels.
CONCEALED FASTENER WALL PANEL
WAVE
The Wave Panel can be installed horizontally to satisfy any project. The Wave Panel System is designed for solid deck application to provide clean lines on new construction or retrofit. If you are looking for a textured appearance without visible fasteners, the Wave wall panel makes an excellent selection. We roll-form custom lengths to your specifications.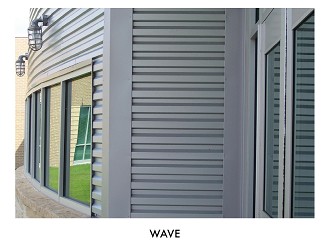 EXPOSED FASTENER PANELS
MEGA-RIB
Mega-Rib is a 7.2 exposed fastener panel that provides optimum strength and spanning capabilities. Mega-Rib is a metal roof and wall panel that is equally well suited for industrial and commercial applications.
MULTI-COR & M-COR
McElroy's corrugated metal panels were designed and engineered with greater-than-normal spans and load-carrying characteristics in mind. They quickly communicate their high-strength performance capabilities and are equally well-suited for roof or wall applications. McElroy's Multi-Cor and M-Cor are similar in design, with M-Cor offering a more subtle rib height and configuration.
MAX-RIB
Max-Rib is a low profile (3/4″) panel that is well suited for commercial, agricultural and residential applications. Can be installed on as low as a 1:12 pitch if sealant is used on the sidelaps. If not, a 3:12 pitch is recommended.
MINI-RIB
The symmetrical design of McElroy's Mini-Rib exposed fastener panel make it an appealing profile for soffit, liner and fascia applications.
U-PANEL
U-Panel is an exposed fastener wall and roof panel that is also used extensively as a liner or partition panel.
We stock M-Cor Galvalume 3' x 10' 26 gauge at ourmain location (2950 N Western Ave).