Difference Between Fiber Cement Siding and Vinyl Siding
Fiber cement and vinyl are the two most common siding materials among homeowners. Multiple considerations must be considered when selecting the right material for your home because there is a big difference between fiber cement siding and vinyl siding. Knowing such differences will help you make a decision that is in your best interests.
The fiber cement siding and vinyl siding are the two most popular to give the exterior of your home a beautiful appearance.
The most recent breakthrough in home siding is fiber cement siding. It is a popular choice for homeowners since it is made of recyclable materials, it is long-lasting, low-maintenance, and resource-efficient.
On the other hand, PVC, a stiff plastic fiber, is the primary component of vinyl. It is tightly fastened in such a way that it can contract and expand in response to changes in temperature. Vinyl siding is popular among single-family homeowners.
Let's further check the differences between the two and why fiber cement siding is better than vinyl siding.
Why is Fiber Cement Siding Better than Vinyl Siding?
Characteristics
Fiber cement is available in two finishes: primed and pre-finished. It comes in a variety of designs, including beveled planks, shingles or shakes, and stucco panels.
It has the appearance of wood but does not function like it. When it comes to removing moisture from rain, snow, heat, and humidity, this is a positive thing. Wood has a tendency to swell, warp, and rot over time, limiting its lifespan, but this is not an issue with fiber cement.
Vinyl siding, unlike fiber cement siding, is susceptible to cracking in cold weather if it is damaged. Vinyl siding will warp or buckle if it is not installed correctly.
Cost
The cost of vinyl siding is around $3 to $5 per square foot, while fiber cement siding costs anywhere from $5.00- $15 per square foot.
The fiber cement siding price may be higher than vinyl siding but it lasts a very long time so it is better to spend more for long-term investment than spend less and you need to change for only after a few years.
Aesthetics
Both types of siding come in a variety of styles, colors, and textures, as well as a variety of shapes and installation choices. Lakefront Supply offers lap siding, shingles, and shakes. Fiber cement soffit and trim contribute to the product's distinctive appearance.
Fiber cement siding is the only siding that has the performance of masonry. It is very durable, fire- and termite-proof. Lakefront Supply guarantees that there will be added protection and security to your homes for many years. We offer high-quality siding materials in Chicago. Lakefront Supply also handles both commercial and residential jobs so contact us if ever you need assistance.
Lakefront Roofing & Siding Supply
We are a roofing and siding company in Chicago, IL, offering top-quality siding materials in Chicago. Lakefront Supply also handle both commercial and residential jobs. Please see below for some of the major siding products we have in-stock.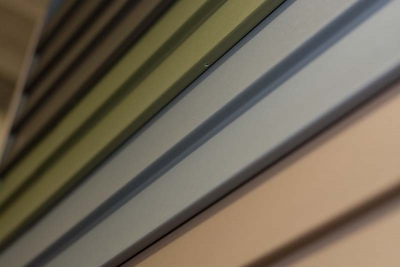 James Hardie

7 ¼ Cedarmill and 4×10 panels

Hardie Trim

Hardie Siding Trim Coil (all colors) and Hardie Siding Trim Caulk (all colors)

Hardie Cutting Tools

Fiber Cement Coil Nails

Hardie Screws (up to 3 ½")

Every Fastener for Every Situation

 

Hand Brakes – TAPCO "PRO 19", "PRO 14", and the "WINDY"

 

Miratek Trim
 

Tamlyn Extruded Aluminum Trim

 

ET&F Fastening System

Panel fastening system (designed for nailing Hardie panels into steel up to 14 GA thickness)

Model 510 Gun

AGS – 100 Pins In Stock 1 ½", 2", 2 ½"

 

Diablo Cutting Blades (full line of blades and saw blades)

 

Polar Fanfold in stock ¼", ⅜", ½"

 

Benjamin Obdyke Slicker/Hydrogap/Flat Wrap/UV ( All in Stock)