Why are Roof Flashings Beneficial for Businesses?
If you're unaware of what roof flashings are, we at Lakefront Roofing and Siding Supply have created this guide to inform you of its benefits. Since water damage can disrupt daily business activities, you must take measures to stop it from being a detrimental factor.
Thus, this article will give you an overview of roof flashings and how they can help protect businesses. Learn more about why you should opt for these roofing materials below.
What are Roof Flashings?
Formulated from aluminum or galvanized steel, these products are utilized as a long-term roof waterproofing solution. They work in a manner where the building's perimeter is sealed and the water flow is directed away from structural openings. Typically, pouring water is re-directed towards the ground
Flashings are done to protect weak points of sloped and flat roofs, thus preventing damage due to flooding. It is usually applied along walls, edges, protrusions, or valleys. Aside from its structural benefits, flashings can be aesthetically pleasing as well.
Why are Roof Flashings Advantageous to Businesses?
1.
It helps prevent disastrous roof damages.
One major advantage of roof flashings is protection from harmful elements. Your building's roof is exposed to storms, rain, and winds, among others. If it breaks due to these weather conditions, your business will surely suffer.
Serious roof damages poses a threat to your property. It could lead to delays in business operations which can be very costly. Thus, it's important to prevent it from occurring.
These roofing installations work by forming impervious membranes that surround weak points on your roof. These resolve water infiltration and prevent damages on joints found around chimneys, vents, and skylights.
In addition, the said roofing solution prevents the formation of water pools on flat roofs. So if your building is flat-roofed, it's important to install flashings to prolong the lifespan of the roof, the establishment, and its contents.
2.
It can be designed to fit varying configurations.
Flashings can be installed on flat and curved roof surfaces. Plus, they can be designed to fit varying requirements or configurations. Generally, these are installed as an unbroken perimeter surrounding your building.
3.
Flashings are cost-effective.
If installed properly, they provide effective protection against harmful elements. For optimum efficiency, they should accommodate both expansion and contraction among your building's roofing materials.
High-quality installation will allow these movements while maintaining its ability to prevent leaks. Once it has been installed, maintenance is very simple and inexpensive. Because they are resistant to extreme weather, flashing lasts for years without requiring too much upkeep. Thus, it's a cost-effective method of protecting your business establishment.
4.
It's aesthetically pleasing.
Installation of flashings doesn't lead to the protection of your roof alone. It also improves the architectural design of your building. It adds to the aesthetics of the establishment allowing it to get the job done while looking good.
To Wrap It All Up
Proper installation of roof flashings can be cost-effective and beneficial to your business in the long-run. These are designed to protect your roof, building, and establishment contents from expensive damages, not to mention the added stress of facing them. In addition, these roofing installations can fit any configuration or requirement and improves the overall aesthetics of your building.
We offer a variety of flashings in Chicago for your every need. Please see below for details on stock flashings, custom flashing and bending, coping and hidden fastener coping systems. View our color charts.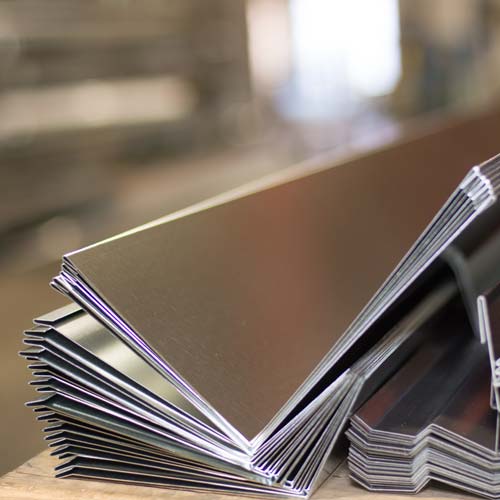 STOCK FLASHINGS
Stock flashings are made in our own shop in Chicago 10′ lengths from 24 gauge galvanized steel, and in several prefinish colors as listed in the table below. Any variation from this stock list (size, shape, color, metal) is a Custom Flashing order. Such orders are typically filled within 24 hours.
Primed Kynar counterflashing is an economical product made from various colors of surplus Kynar®. It is formed with the off-white primed backside of the Kynar® facing out. A low-cost, high quality substitute for aluminum term bar or galvanized counterflashing. Availability subject to seasonal fluctuation.
** All Stock Counterflash includes pre-punched mounting holes on 12" centers.
All profiles stocked in 10′ lengths.
Gravel Stop
Roof to Wall
Drip Edge
Gutter Apron
**Counter Flash 4″
24 gauge Galvanized
x
x
x
 
x
Kynar® – coated (prepainted) 24 gauge Steel
Black
x
x
 
x
x
White
x
x
 
x
x
Brown
x
x
 
x
x
Dark Brozne
x
x
 
x
x
Primed Kynar®*
x
x
 
x
x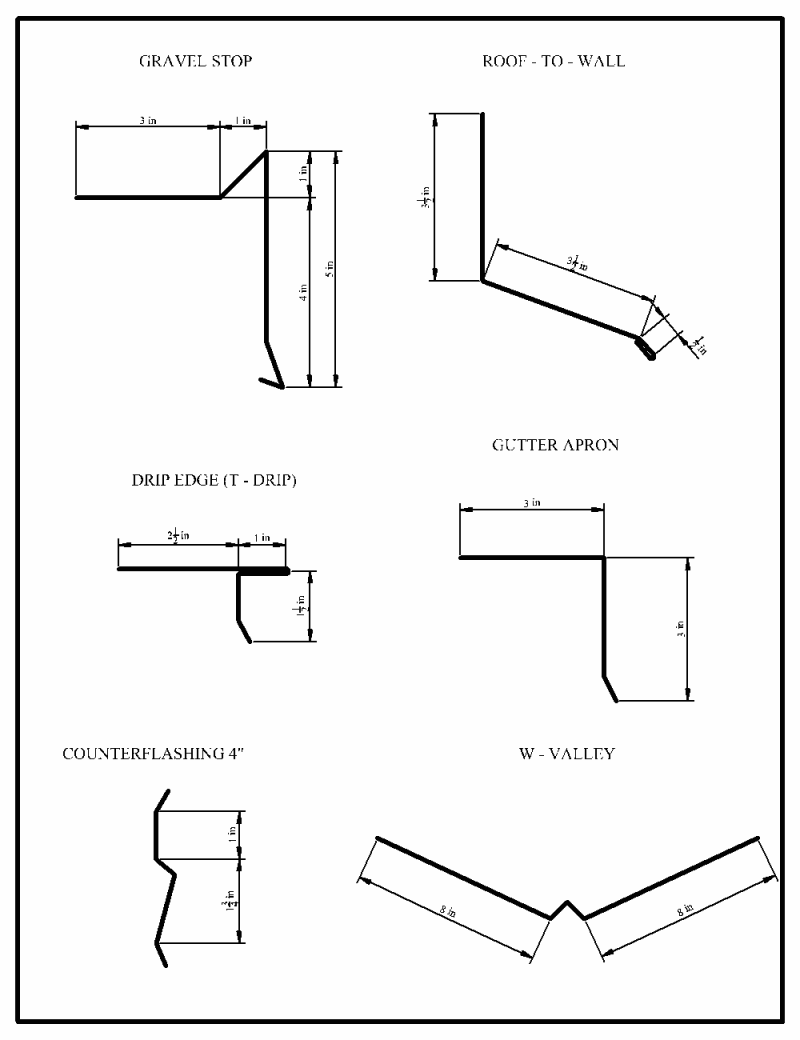 CUSTOM FLASHING & BENDING
Custom Bending is our premier service and is fast, accurate, affordable, and made from galvanized, copper or pre-painted Kynar® sheets. With our collection of automated equipment, we can do just about anything you might request. Go ahead, try and stump us! Fax your drawing to (773) 478-6430 and we'll price it out for you.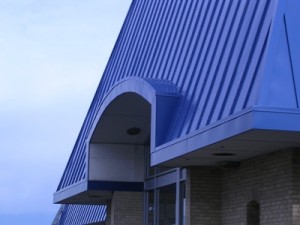 COPING
Coping is typically installed with a cleat attached to the face of the parapet. The coping hooks over the cleat and is fastened to the rear of the parapet with a matching color fastener with a neoprene washer. Seams are caulked and covered with a snap-on cover plate.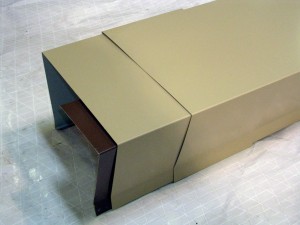 HIDDEN FASTENER COPING SYSTEMS
In response to customer demand, we have developed these two hidden-fastener coping systems. Both are simple, low-cost, high-performance systems and priced anywhere from 20% – 60% lower than our name-brand competitors. Our systems are NOT lab-tested for ASTM compliance or wind uplift. No warranty is offered or implied.
HIDDEN FASTENER COPING: DOUBLE CLEAT MODEL (CDC)
Simply attach cleat to both sides of the parapet. The coping comes with one hem open enough to snap over the rear cleat. Use a hand seamer to squeeze the hem tight every 40?. This is a sturdy, permanent installation, suitable for finished roofs with decks or roof gardens.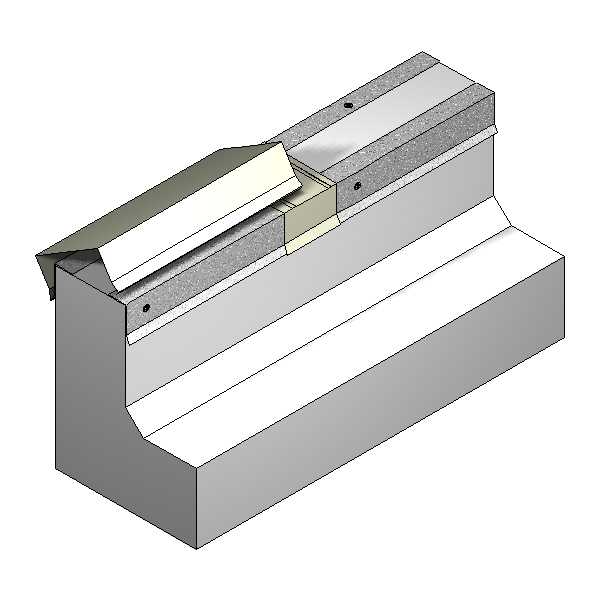 Two piece .050 aluminum cleat with any size fascia. This product is fabricated to the ANSI-SPRI specification.
HIDDEN FASTENER COPING: SPRING CLIP MODEL (CSC)
Attach rise-cleat to face of parapet and spring clips every 40" along back of parapet. Hook coping to face cleat, press down and SNAP! It clicks onto the clips and the installation is complete. This coping is REMOVABLE to allow repair of the roof membrane. This product is NOT SUITABLE for a roof deck or garden situation, since sitting on it will cause it to pop off, and could damage the clips