We opened Lakefront University in 2008.
There's no degree involved, but every winter we offer free classes to learn new on-the-job skills as well as how to run the best business possible like understanding insurance options. Each year we have over 100 people join Lakefront University and it has proven to be a great success and continue to enhance Chicago roofing companies throughout the community.
Examples of classes we have offered in the past are as follows:
 

How to Write An OSHA Safety Manual For Your Company (Presented by an OSHA authorized company)

 

OSHA Training Classes with Certifications (Presented by an OSHA trained team members)

 

How to Get a Line of Credit at a Bank (Presented by Bridgeview Bank)

 

Lein and Contract Law Q & A (Presented by two lawyers from these respective fields)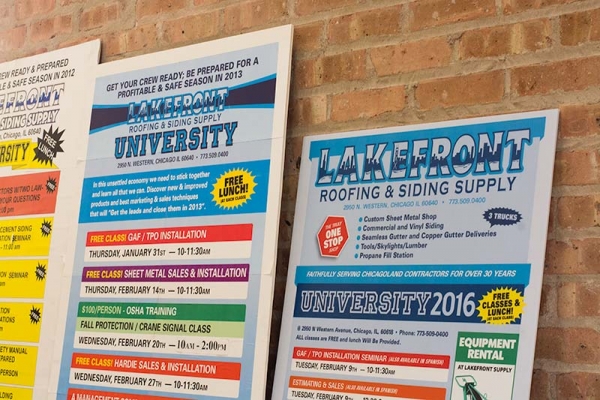 Stay tuned as this winter's schedule will be posted soon!
Weekly, we have Wiener Wednesday, where we also feature a vendor who usually offers educational trainings or updates for contractors. This is a great opportunity for all contractors to have direct interaction with featured vendors and vice versa.