DRAINAGE ACCESSORIES
SCUPPERS
We stock 12" small pattern scuppers, and custom make any size. We also make bulldog and picture scuppers.
ROOF DRAINS
We have new construction roof drains in stock along with both aluminum and plastic roof drains. But if you're in need of anything else, just let us know!
REROOF DRAINS
We offer everything from roofing membranes and roofing strainers to outlet pipes and precompressed tape. But if you're in need of anything else, just let us know!
PITCH PANS
All adjustable pitch pans are designed and manufactured by Lakefront Roofing and Siding Supply.
 

Our 4'x4' and 6'x6' metal pitch pockets can be combined to produce pans of various sizes and shapes. Now with a tool-less snap-in design!

 

They work perfectly with Lucas #4500 – A one component, non-shrink, advanced technology polyurethane sealant designed for sealing pitch pockets and pans, metal roof seams and fasteners, inlaid gutters and polyurethane foam roofs. #4500 is compatible with Lucas water-based acrylic coatings. It is ideal for repairing hail damaged polyurethane foam roofs as it will not shrink like water-based sealants.
CHIMNEY CAPS
We can make custom chimney caps made to your exact specifications. We can also make any dimension of flower boxes or metal caps. Just let us know how we can help!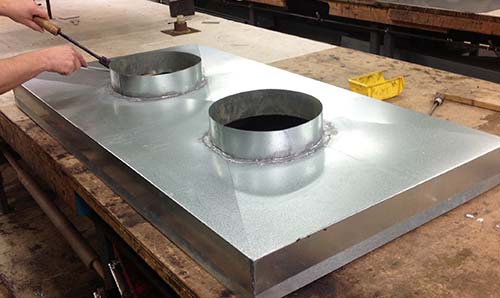 ROOFING TOOLS
We carry a wide variety of rooftop tools ranging from hand tools to power tools to large power tools. We carry brands such as Hitachi, Garlock , AJC, Malco, and Lift Safety products. We have it all!
ADDITIONAL ROOFING ACCESSORIES
We carry a range of miscellaneous roofing accessories. If you need alumni-flash and retrofit flashing systems, pipe boots, deckmate flashings for metal roof and wall systems, pre-molded corners and vents and breathers, we've got them! If you don't see what you're looking for here or in our roofing supply ecommerce store, just let us know and we'll help you out!